Meet the Team
Running a chiropractic office is a team sport. Meet our team players and become familiar with our office!
Nicole Carrington – Office Manager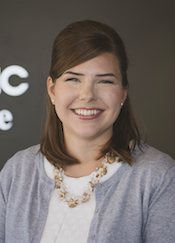 When walking into a doctor's office, it's easy to feel invisible. Over the past 11 years I've had in customer service, I've found my great passion is to help those that walk through the door feel warm and welcome. I love getting to know our patients and their families and enjoy serving them well. Passionate about wellness and excellent service, Becker Chiropractic is a natural fit for me.
I moved to Omaha with my husband, Cory from Norfolk, NE in 2009. We enjoy going to dirt track races on the weekends and spending time outdoors with our dog, Bow. Running, reading and relaxing are how I like to recharge.
Sometimes the brightest part of one's day is receiving a friendly smile, and I hope to be that for our patients.
---
Brett Ashley – Back Office Manager
The best part of my workday is taking the extra steps to getting to know our patients and their families! It is so important to help others feel welcome in our office and truly connect with each patient that walks through our doors. Being a part of the Becker Chiropractic team has certainly given me the opportunity to become my best in the field of customer service!
I have lived in Omaha for 3 years and recently graduated from Midland University with a bachelor's degree in Business Administration, Communications and Marketing. As a passion, I enjoy stage performance – including dancing, singing and acting! Throughout the years of 2014-2018, I was on tour with a professional performance organization. During this time, I toured nationally and internationally performing in cities all over the world.

Becker Chiropractic and Acupuncture | Meet the Team