Chiropractic for Athletes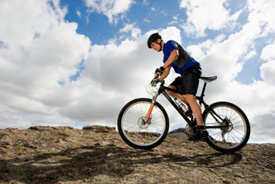 As a former football player who still lives an active life and as a West Omaha chiropractor, Dr. Becker has seen the wear and tear sports can take on your body.
Chiropractic can be a powerful tool to help you improve your performance, whether you seek to come back from injury or just want to play at your greatest abilities. He is a Certified Chiropractic Sports Physician (CCSP(R)) who can help you achieve your athletic goals.
Helping Athletes Set Records
From kids to professionals, and those who run every day to weekend warriors, athletes of all ages and levels can see incredible benefits from chiropractic.
It has been shown to:
Improve joint motion
Decrease muscle spasm
Increase your function
Lower risk of injury
Giving Your All
When you've been hurt, we can help you get back to playing quickly with less pain. Chiropractic care is especially beneficial for athletes in sports with repetitive motions, which can lead to overuse injuries. Dr. Becker works with local high school athletes in the Elkhorn and Millard school districts, and has even seen great success helping elite-level athletes.
Additionally, he has treated several patients who qualified for and completed the Boston Marathon and ultra-marathoners who complete 100-mile runs with the help of regular chiropractic care during training. Becker Chiropractic and Acupuncture welcomes the opportunity to help you reach your peak performance!

Sports Chiropractor West Omaha, Elkhorn NE | (402) 330-8600