Sports Chiropractic in West Omaha
In our community, we've seen an increase in the number of people living more active lives. This has contributed to a positive effect on overall health. Whether you're a weekend warrior or a full-time athlete, injuries may still occur.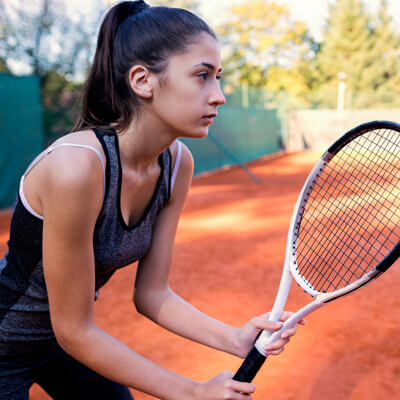 Sports injuries can be minor, like a simple sprain or strain that basically heals itself in a few days. Utilizing our sports chiropractic services before exercise may reduce the severity of your injury and could even prevent it from happening.
What do we do when it's more severe? When pain becomes chronic and debilitating? Popping a pain pill is not the answer; we have solutions for you at Becker Chiropractic and Acupuncture. We don't just treat your symptoms; we find out what the real cause of your pain stems from — and correct it!
Sports chiropractic care is used by athletes in sports like:
Tennis
Golf
Basketball
Baseball
Many professional sports teams have made chiropractic care a part of their health regimen. Chiropractors are trained in how structure relates to function; sports chiropractic is a natural extension.
NEW PATIENTS »

How Does it Help?
Sports chiropractic care uses basic chiropractic principles with a focus on strength and conditioning. We help athletes increase their range of motion, reduce pain, lessen the medication they take and help delay or prevent invasive surgical procedures. Dr. Becker understands athletes; he's one himself!
Sports chiropractic can reduce soreness and improve flexibility, focus and coordination. It can also improve function and mobility and allow injured athletes to return to action faster. By freeing restricted joints, your body is able to function at its highest level.
Dr. Becker is a CCSP — Certified Chiropractic Sports Physician. His expert training in the field of sports medicine ensures you'll receive a superior level of care. Your muscles will function much better after treatment in our office.
Can You Benefit?
Some of the conditions Sports Chiropractic care has proven success with are:
Sprains/strains
Contusions
Concussion
Injury rehabilitation
Pre- and post-surgical recovery
When you're a serious athlete, you're constantly trying to improve your performance and how your body functions. These patients are very attuned to how their body works and notice even small changes. You push your body so hard, inflammation can occur. Regular adjustment of the spine has proven useful in the reduction of inflammation and improved nervous system health.
Our care plans provide therapies geared towards maintaining strength and rebounding after an injury. Athletes don't always know where they're deficient because they're used to training through injuries. A program of continuing care optimizes the performance of your musculoskeletal system and nervous system as well.
Dr. Becker shares the story of a high-level HS football player who came to the practice. After suffering several different injuries throughout the year, his level of play was not improving. He had seen other doctors, including another chiropractor, without success.
One month before he was due to enroll in college, Dr. Becker started to work with him. He was soon able to start working out again and was excited at the prospect of being at 100% for his new team.
Book Your Visit Today
Sports chiropractic can make a difference for athletes at every level. Contact us for an appointment and see the difference we can make in your game.

Sports Chiropractic West Omaha, Elkhorn NE | (402) 330-8600